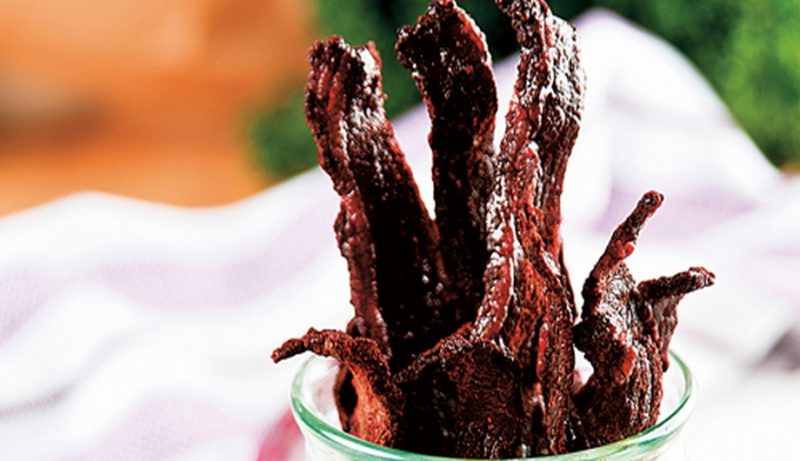 To translate this into Italian, we are talking about dried meat Try it at least once in your life if it has not yet entered your dryer!
Ingredients
800 g very lean beef
65 ml Worcestershire sauce
65 ml soy sauce
1 tablespoon tomato juice
1 tablespoon white wine vinegar
1 teaspoon sugar
1/4 teaspoon of previously dried garlic powder
1/4 teaspoon of previously dried onion powder
1 teaspoon salt
Procedure
Delete from the meat as much as possible of fat and possibly freeze it Then cut it into thin strips about 3 mm thick, perpendicular to the direction of the fibre, then cut the strips again into pieces 25-35 mm wide. In the meantime, combine the other ingredients in the blender and pour them over the strips of meat arranged in a dish, to be placed in marinate in the refrigerator overnight to season it. Then arrange the meat in the dryer baskets, avoiding overlapping.
Programme
P4 SuperHot at 68 degrees for about 4 hours.
Turn the meat over and repeat the process for another 6 to 8 hours.
Jerky should appear dark in colour and be fibrous and stiff enough to break if you try to bend it. Attention that jerky should be refrigerated or vacuum packed and consumed within six months of drying.